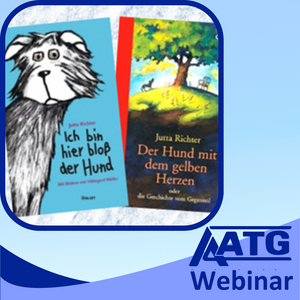 This webinar explores teaching two novels by Jutta Richter, one of Germany's most celebrated authors of Kinder- und Jugendliteratur. Ich bin hier bloss der Hund explores the world as seen by a dog and is endearing to readers of all ages. Der Hund mit den gelben Herzen tells the story of Lotta, her brother Prinz Neumann and the dog in Opa Schultes barn. The material is easily shared with students beginning with a proficiency level of A2-B1. Materials created for use with students in German 3, 4, or 5. 
Kathy Fegely
 teaches Exploratory German and German levels I,II, III,IV, and V at Antietam High School in Reading, PA.  She is the immediate past president of the American Association of Teachers of German and is an active presenter in the AATG/Goethe Institute Trainernetzwerk. Kathy serves on the Kinder- and Jugendliteratur Committee and the Deutsch an Schulen Committee for the AATG.  Additional professional interests include creating instructional units for integrating art and film into world language instruction. 
Angelika Becker
 currently teaches high school in Indiana, but has experience at all levels, including elementary and adult learners. She coordinates the GAPP program at her school and participates in the annual AP Reading. She has presented at the local, regional and national level. She earned her BA from Indiana University and her MA from UNL.