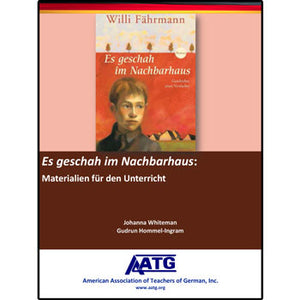 This 134-page collection of classroom-ready materials provides everything you need to read Es geschah im Nachbarhaus by Willi Fährmann with your students. Includes pre-reading activities, chapter-by-chapter suggestions for interactive reading, and post-reading activities. Also includes step-by-step lesson plans and 55 copy-ready worksheets and information pages.
Es geschah im Nachbarhaus tells the story of a Jewish family whose life in a small German town in the late 1800's is destroyed by rumors of ritual murder. It is suitable for AP high school classes and for 2nd or 3rd year university classes. Authored by Johanna Whiteman and Gudrun Hommel-Ingram. 
Digital download. The file will be available to download after checkout.