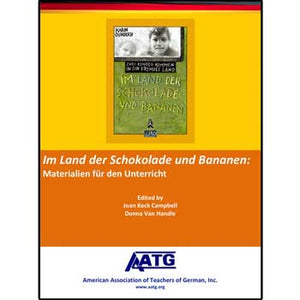 This CD contains an extensive collection of materials authored by 15 German teachers from middle school, high school and college level, who participated in the 2006 summer seminar entitled Kinder- und Jugendliteratur: Die Werke von Karin Gôndisch. The seminar, organized by the American Association of Teachers of German and funded by a generous grant from the Interministerieller Ausschuss fôr das Transatlantik Programm, took place at the Landesinstitut fôr Schule (LIS) in Bremen, Germany. The materials were compiled and edited by the seminar leaders, Donna Van Handle (Mount Holyoke College) and Joan Keck Campbell (Lincoln-Sudbury Regional High School). 
In order to make these teaching materials for Im Land der Schokolade und Bananen as useful and accessible as possible, the collection offers classroom-ready lesson plans, activities and exercises organized by level of instruction: 1) Second and third year high school; 2) Fourth year high school and AP; 3) Third and fourth semester college/university. Within each level materials are divided into three sections: Vor dem Lesen (Pre-reading activities), Während des Lesens/Im Unterricht (Classroom activities) and Nach dem Lesen (Post-reading activities)
Digital download. The file will be available to download after checkout.