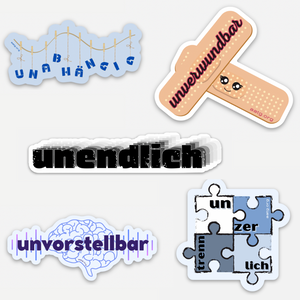 The designation of "Unwort des Jahres" was initiated in Germany in 1991 to draw attention to questionable use of language in the public and the media. While there are many problematic un-words out there, our selection of die-cut stickers introduces your students to a number of positive & empowering un-words! Perfect for laptops, water bottles, folders etc. - and they go great with our un-wort-shirt as well! 
Pack of 10, two of each design.
Limited Edition - grab them before they're un-available!

Size varies, 1'x2.5", 1"x4.5", 2"x2"